Accessing Happiness and the Great Outdoors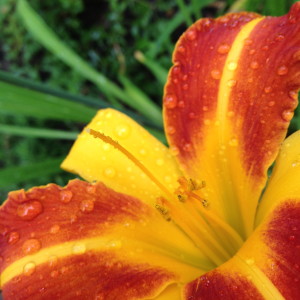 Is the rain dampening your spirits?  Weather can affect our mood, but did you know that our exposure to nature is connected to happiness?  So maybe it's not the rain but being cooped up inside that makes us feel blue.  In her latest book, "The Nature Fix", Florence Williams talks about the science behind nature's positive effects on the brain.  Spending 15 minutes in a park for example, can have restorative effects on one's psyche.  In Japan, "forest bathing", immersing one's body, mind and spirit into nature, has grown into a popular therapy.  Fortunately for us in Canada, we are surrounded by lots of green spaces and waterways.  Accessing the great outdoors, however, can have its challenges.
In cities like Toronto, recreational pathways along the waterfront and in parks are multi-use.  They're relatively easy to access, but the routes can get very busy.  If you want to escape the concrete jungle, Ontario Trails offers a list of partial and complete wheelchair accessible paths.  It gives details of the trail including the type of surface of the path, length and level of difficulty.  The Port Carling urban route in the Muskokas and the Grand River intercity connecting trails offer wonderful views and history too.
Conservation Ontario offers a comprehensive list of wheelchair accessible conservation areas.  Each site is rated in terms of its barrier-free accommodations.  You can download a free guide from their website.  Some of the five-star gems include the Cascades Conservation Area, near Thunder Bay, Ontario that gets top rating for its wheelchair accessible pathways, and the Ganaraska Forest and the Ganaraska Forest Centre offers all-terrain wheelchair rentals to visitors!  For these and other nature trails, best to call ahead to plan your visit and ensure your accommodations can be met.
About that rain?  The sound and smell of water can have a calming effect.  Just remember to pack an umbrella if you take a 15-minute visit to a park or go on an all-terrain wheelchair trek.  Being close to nature is good for you!  After you read National Geographic's article about nature and happiness, go out and share your nature photos with us on our Wheelchair in Motion Facebook page.
Remember, Wheelchair in Motion's accessible transportation rentals are available daily, for weekends and more.  With van rentals available in Mississauga, Hamilton and most areas of Ontario including Ottawa, we are here to assist with your accessible transportation needs.  Contact us if you have any questions about accessible transportation, van rentals.  We hope to help with your accessible transportation needs during 2017.