Getting Around the Holiday Hoopla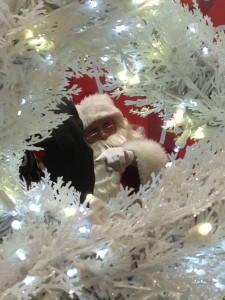 It's beginning to look a lot like Christmas!  Santa Claus has come to town and the countdown to December 25th has begun.  There's the shopping, baking, decorating, and the travel plans too.  Getting things done can seem overwhelming: big crowds, short fuses, and long to-do-lists.  Where is the comfort and joy in the Christmas rush?  Maybe it's time to slow down and take a different approach to holiday preparations.
Planning a shopping destination day-trip can be a fun diversion.  Take in a craft show, do some window shopping, and pick up locally-made gifts that you can't find at home.  Many churches and community groups are hosting bazaars and bake sales.  Nothing beats home-made goodies.  If you're looking for something original, Toronto's One of a Kind Show and Sale with over 800 artisans will not disappoint you.  The event takes place at Exhibition Place, from November 23rd to December 3rd.  The building is wheelchair accessible and conveniently close to public transit.
Christmas markets offer a unique shopping experience.  The outdoor family-friendly event brings together shopping, winter festivities and tree decorations in a vehicle-free zone.  There are village-style markets in Prince Edward County, Christmas Markets and Holiday Craft Fairs in Toronto and the GTA, Christkindl Market in Kitchener, Streetsville, and the Village Noel Temiskaming.  The open-air sites are generally wheelchair accessible but the individual shops might not offer barrier-free entrances.  Best to call ahead to find out.
Take time to enjoy the dazzling winter wonderland, and the city aglow in twinkle lights.  In Ottawa, visit Christmas Lights Across Canada at Parliament Hill, and the Magic of Lights at Wesley Clover park is a drive-through light show.  The spectacular Niagara Falls Winter Festival of Lights, and the Gift of Lights in Kitchener will bring warmth to the cold winter nights.
Embrace the season of giving and goodwill with family and friends.  That's where you will find the greatest comfort and joy.
How do you get around the holiday hoopla?  At Wheelchair in Motion, we can help you navigate through the Christmas rush.  Our winterized, accessible van rentals are available daily, for weekends and more.  We service the North Pole, Kitchener, Hamilton and most areas of Ontario including Ottawa.  Contact us if you have any questions about accessible transportation van rentals.  The Wheelchair in Motion elves are ready to help you.  Ho, ho, ho!