Accessible TTC and the Holiday Season
The holiday season is extremely busy especially in Toronto.  There is always some kind of event going on – family gatherings, big shopping trips and festive community events.
Make reservations well in advance at http://wheelchairinmotion.com as we get booked up quickly.   Specific date not available?  No problem!  Toronto Transit Commission have been working diligently to make more accessible stops and nobody (even last second planners) will have to miss their favourite event!
Currently TTC has the following 32 accessible subway stops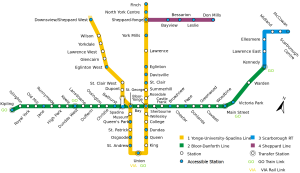 The entire TTC bus fleet is accessible and the 510 Spadina Streetcar is the first line to roll out the new accessible streetcars. Keep an eye out in 2015, TTC will bring the 511 Bathurst and 509 Harbourfront accessible streetcars.
Need the gritty details? Check out TTC's multiyear accessibility plan:
Download PDF
Wheeltrans is a great service within Toronto and luckily you don't have to live in Toronto in order to register. Although living in the GTA would be easier as it requires an interview so if you're not registered yet book an appointment asap! One of the interview locations is at Metro Hall  (55 John Street) which is nearby St. Andrew station and after the interview it will take 10 days to determine if you are eligible. It's a little bit of a hassle but worth it for the door-to-door service anywhere in Toronto for regular TTC fare. Check here to see if you are eligible:
GO Transit / Presto – Whether you're coming from the east (Oshawa) or west (Hamilton) getting in to Toronto is easy with Presto and Go Transit's accessibility cars located in the center of the train.
Follow us on Twitter we share updates about the TTC and accessibility and this month some of our favourite holiday events. J  We also love seeing you having fun send us pictures getting to and enjoying GTA winter festivities and we'll put it on our Facebook page.
Upcoming Festival– The Annual Distillery District Christmas Market November 28th – December 21st
http://www.torontochristmasmarket.com/
It is a Christmas centric event  with plenty of other activities there to make it a festival worth attending including hand crafted products, live music, beer gardens (it is in the distillery district!) and great food.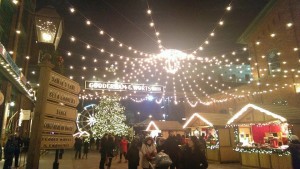 Photo from last year's festival via Jeremy Gabriel